W. Scott Westerman, Jr., the man I've always called "The Real" Scott Westerman, passed away peacefully early in the morning of April 18, 2018, on what would have been my mother's 93rd birthday.
She would want me to remind you that she left us on Dad's birthday nearly 13 years ago.
He was lovingly cared for by the team at the Glacier Hills Retirement Community, a true "Cruise Ship on Land" and surrounded daily by the many friends he had made in nearly 7 decades of life in Ann Arbor.
Whenever someone would praise dad for his many contributions to the community, he loved to deflect his accomplishments in the direction of others. When pressed, he would only admit that he was the right person, in the right place at the right time.
That began at birth, July 10, 1925, when he came into the world the youngest of three children in a Methodist minister's parsonage. Having two older sisters who were valedictorians set a high bar in a household where selfless service was an expectation.
He did his best to live up to that expectation, becoming involved in student government and playing a number of varsity sports at the Gallia Academy High School in Gallipolis, Ohio. Being part of the Greatest Generation, he proactively answered Uncle Sam's call, participating in a program that allowed him to graduate early and put a year of college under his belt before entering the service.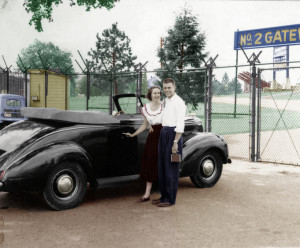 He was the right person, in the right place at the right time, when he met Marcine Percy, a Phi Beta Kappa and one of the most popular girls at Ohio Wesleyan University. He somehow managed to gain her attention to the point where they agreed to write one another when dad joined the 86th Infantry Division. Although dad pressed her, my future mother resisted his desire for commitment. It's family lore that her response was "It wouldn't be fair," meaning, "you might not make it back and I want to keep my options open."
The famed Black Hawks raced through Europe as the Second World War was coming to a close. Such was their distinguished service that they were tapped to take part in the planned invasion of Japan. It was on a transport in that direction when dad learned that the enemy had surrendered. He mustered out as company first sergeant and began to seriously consider what he wanted to be when he grew up.
He and my mother exchanged scores of letters during the war. Dad wore down her resistance to the point that she agreed to become engaged as he passed through town on his way to the Pacific Theater. Mom admitted that she didn't expect him to come back. But in what would become dad's game plan for attacking every challenge, come back he did, closing the sale at their Lima, Ohio wedding in the summer of 1948.
His educational vita includes Ohio Wesleyan, Northwestern and the University of Michigan, where he wrote a dissertation on "Teacher Pupil Planning" in pursuit of a PhD in Education. He became an assistant professor and also landed a plumb gig teaching at the university's prestigious private high school. It was a job that usually went to much more seasoned practitioners, but being in the right place at the right time, dad was able to demonstrate his skills and leverage his relationships to become the youngest member of the faculty.
Along the way he and mom had three children. My older sister, Sandra, was born prematurely in 1952 and passed away. I came on the scene in 1955 and my sister Judy joined the family two years later.
You can imagine what amazing parents they were. Our house was continually filled with fascinating people talking about fascinating things. Ours was a rainbow of races, faiths and lifestyle preferences. Judy and I learned much about character, compassion and the rich value of diversity from our parents. We also learned important life skills, how to compile a list of license plates from every state when we traveled, what to look for in a good used car, and never making any financial decision without getting at least three estimates.
It came to pass that dad was hired by the Ann Arbor Public Schools for roles that he thoroughly enjoyed, becoming the Social Studies Coordinator and eventually Assistant Superintendent for Instruction. His skill and confidence grew and when Superintendent Jack Elzay left the district, dad agreed to serve as interim, telling the Ann Arbor News, in his best Lyndon Johnson voice, "I am not a candidate".
As word spread, members of the community came forward to ask him to reconsider. And being the right person, in the right place at the right time, he was well positioned to lead the district through some of the most seismic change in its history.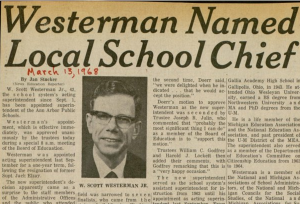 Dad proactively sought out women and people of color for senior leadership positions in a time when there was still much discomfort with the notion. He empowered African American students at Pioneer High to entreat the faculty to create a more inclusive educational atmosphere. He filled the Pioneer auditorium the night the district presented its first-ever sex education curriculum to a still sexually cautious community. He shepherded a growing district through a year of split shifts as Huron High School was built. And he created an environment where productive change could emerge out of an era where riots and protests were the norm.
After four eventful years, Dad decided to return to teaching, becoming a department head at Eastern Michigan University's College of Education. By now, Dad's experience was such that when the deanship became available, he was the right person, in the right place at the right time. During his tenure, Eastern became the largest producer of teachers in the nation, talent that fanned out across the country to evangelize dad's belief that, through education, everyone has the opportunity to prosper.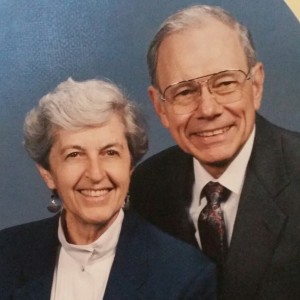 He would want me to stop here to note my mother's accomplishments because he believed that her activism and engagement played a crucial role in Ann Arbor's storied history. A short list includes the founding of International Neighbors, a place where the spouses of foreign college students could learn to acclimate to American life. Mom was instrumental in the rise of Ann Arbor's Planned Parenthood organization and the League of Women Voters. She helped initiate our sister city relationship with Hickone, Japan, earned an advanced degree in art history and served with distinction on the Ann Arbor Board of Education.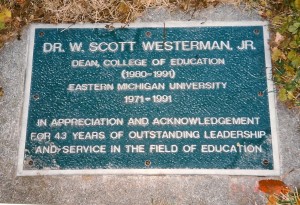 Retirement for the two of them was much like their professional lives. Mom and dad became active volunteers in Ann Arbor. Dad enjoyed the opportunity to participate more fully in Ann Arbor Rotary, toured internationally with Eastern's Measure for Measure Men's Choral Society, and leant his expertise to a number of fund raising initiatives including the capital campaign at Ann Arbor's First Presbyterian Church. He and mom accepted a visiting professorship at Emporia State University. And they traveled the globe with the many beloved friends they made in over five decades as Ann Arborites. They were always our biggest cheerleaders, approved of the soul mates that Judy and I selected and treasured every moment they could spend with our progeny.
After mom's passing in 2005, dad entered his second life with full vigor, serving on the U of M Stem Cell Research Council, and providing valuable council and mentorship to a procession of Ann Arbor school superintendents. In his late bachelorhood, he had no shortage of female companionship, telling me, "Women my age love me because I can still drive at night."
At every turn, dad found it hard to accept praise. He admitted only that he was blessed with an amazing team and just tried to stay out of their way. Everyone who ever crossed his path witnessed dad's authentic humility. He always told us that gratitude and humility were essential to success.
We are put on this earth to alleviate suffering, to illuminate knowledge and to inspire others to think beyond paradigms, and discover their human potential. This was dad's credo. He learned early that affecting change was rarely painless. But he was never afraid to fight for his beliefs, even when his vision was ahead of the community comfort zone.
The secret was this: It was never about him. He was always more interested in you, what was happening in your life, and where it hurt. It didn't matter who you were or what your social status was. He was willing to roll up his sleeves, engage to celebrate your successes and help you work through your challenges. He lived the maxim that "The highest form of wisdom is kindness."
Imagine what our world could be like if everyone modeled that behavior.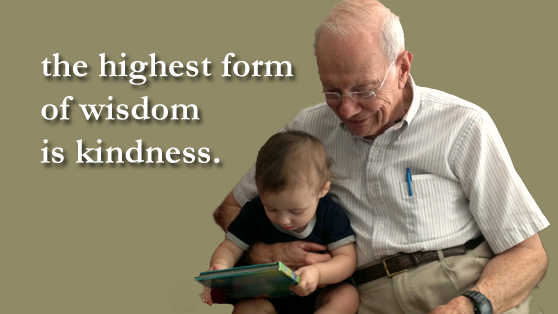 And that would be dad's charge to you today? He was grateful for his long, productive life and was mildly interested in learning what might come afterward. But he was always focused on what we could do right now, to contribute to the greater good.
So we celebrate this extraordinary life, let us resolve to go forth and make a difference. I can't think of a better legacy for a remarkable man who was blessed to be the right person, in the right place, at the right time.