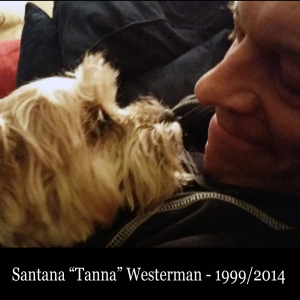 "Let's get the kids a dog."
I can't remember which of us said it but there was a lot of discussion about the particulars. Our house in Florida was small back then and the kids were not yet in high school. We had tried our luck with a Brittany Spaniel several years before but drew a hair brained knucklehead, out of control from the start and clearly unable to make the trip with us from Illinois to Florida.
It took awhile but we somehow settled on the Yorkshire Terrier breed and rescued our first, "Casey", from the puppy mills that churn out product for pet shops.
Casey was high strung, barked a lot and didn't like being snuggled. But boy was she protective. Even the hint of a tickle fight and she was all in, biting the stronger competitor as if she knew who might need the help.
In 1999 it came to pass that we would add another furry family member. A local breeder had sold all but one of his litter. The last one was said to be the feisty one. But, unlike her older cousin, she loved to be hugged, only barked when she had something to say and took over the house the minute she arrived. The kids named her "Santana", after Carlos. That was quickly contracted to "Tanna" and the pecking order was established. Casey acquiesced to Tanna's control almost instantly. Our older pup proved to be the smarter of the two when it came to fetching things, Tanna would always rather have a tug of war than work hard enough to go get something. And Casey still reigned as watchdog, barking her head off whenever the doorbell would ring or a leaf brushed against a window.
Tanna could have cared less about these things. She became Colleen's shadow, preceding her into every room, licking the water off of her legs after a morning shower and submitting to cuddles whenever any of us felt like it.
Casey lived long enough to follow us back to the midwest. She was clearly ready for her exit when the time came. Blind and pretty much clueless at the end, but still so hard to let go. We waited longer than we should have but it finally fell to me to send her on her way. Colleen couldn't bear coming along.
Tanna, ever the adventurer, would christen 8 more of our dwellings during her time. We knew she approved when she made the appropriate deposit in the hallway. It would only happen once but it was her way of making sure everyone knew whose house it was.
She was also Colleen's faithful companion, there for her when I had to go on ahead to Albuquerque while the Queen sold the house we had just bought in West Des Moines. First with a greeting and insistent on sleeping between us, purring away like a cat until she decided it was time for us to get up.
When cancer came into our lives, Tanna was our rock. She was a strong elixir, mitigating the horrors of chemotherapy and staying grounded to Colleen over the long hours of recovery between each course. When I left to start my Spartan Life at the Alamo Bowl, I felt better about it, knowing that Tanna would be there to take care of my soulmate.
She could never grasp technology. Our grandson could call her name across a Florida Facetime connection and Tanna would look everywhere but at the screen. In her prime her preferred nap location was in a laundry basket full of freshly washed clothes.
She didn't like riding in the car, an exercise Tanna associated with shots and boarding. When she traveled with us on longer trips, it took a good half hour before she decided that we weren't submitting her to unpleasantness. Then, she would conk out on Colleen's knees, uninterested in the passing scenery.. until she decided that we had been on the road long enough and marched between the two of us almost commanding me to find a place to stop.
Like most thoroughbreds both Casey and Tanna came with issues, food allergies being the most prevalent. We experimented with a variety of concoctions until finding the right combination that she could eat without breaking out in a rash. In the end she was taking at least four pills a day for her various complaints, most hidden amongst her favorite treats.
Tanna only had one brush with death. A fondness for the taste of well worn underwear got her into trouble early on, so much so that our vet had to open her up when she decided that she could ingest an entire item with the tenacity of a snake devouring it's prey.
We both had learned a lesson. The house became better organized and Tanna a bit more selective in her cuisine. She always had a nose for the crumbs that we might drop, mostly unintentionally, and it was when she started to have trouble finding them that we began to take stock of the quality of her life.
At the end, she struggled with incontinence, ate sporadically and became more selective about what she consumed. We began to notice that she slept much of the day away and sometimes couldn't get her back legs to work. Her grasp on the present was often unsure. There would be good days intermingled with days where we wondered if she really recognized us.
It took a long time for us to conclude that the quality of life she deserved had deserted her. It was so clear with Casey, but Tanna's decline was much slower so we couldn't fully comprehend it until we would see other, younger dogs in the neighborhood who did, "what Tanna used to do".
Even after every objective bone in our bodies told us it was time, our hearts selfishly held on to the face that was the first thing we saw in the morning and the last thing we touched at night. She could still curl up in our arms and we just didn't want to let go.
Last week, we made the decision and almost instantly were second guessing ourselves. The closer it came to our self imposed deadline the sadder we became. On Sunday, we were emotional wrecks. I couldn't attend the three events on my dance card and struggled to pack what little I would need for my Monday trip to Chicago. We invited Aunt Patti over for one last walk. Colleen's sister was Tanna's second mother, our preferred caregiver when we traveled, and Tanna would squeal whenever she heard Patti's voice.
I didn't sleep much last night. This had been a year with too many goodbyes. We're at that time of life where this stuff happens. And I knew in my heart that we were releasing our little girl from a body that had become her burden and no longer her blessing. I also knew that I couldn't be there when we would let her go. Some of you will understand, just as others will understand why Colleen was insistent on staying by her side until the last moment.
I said my final goodbyes to her this morning. Ironically, she was just as she was when we first met, disinterested, eager to be held by Colleen but looking away as if shaking her head at how stupid it was that this other human wanted to give her any affection.
Part of our sorrow was the final realization that we would, at long last, become "empty nesters". Our children were grown and gone. The house would be silent and empty when we came home. But were also liberated from responsibility for our perpetual child and able to do the extended, sometimes impulsive things that were impossible to easily do "with a kid in the house". We resolved to take a full week of total vacation in January, our first in 16 years.
All of these thoughts were swirling in through my mind as I gave Tanna's furry head one last rub. I kissed my tearstained wife and tried to keep my own vision clear as I pointed my car in the direction of the Amtrak station, grateful for all joys and inconveniences that only pet owners know… and love.
Tanna joined Casey at 5:55pm tonight.
(From Colleen)
Dear Tana,
You came to us a wiggly, squeaky 2 1/2 lb little fur ball. You claimed our hearts and our house instantly.
We were warned that you were willful. That couldn't have been more true. But you had such personality, energy, happiness, devotion and eagerness that it was easy to deal with your willfulness. You loved going for walks, biting on the leash and pulling on it so mommy would walk faster because you couldn't wait to go. You thought you were the neighborhood greeter, everyone was your friend, except other dogs, who you puffed out your chest at. I remember the day you frightened a Doberman. I really don't think you had any idea how tiny you were.
We moved you seven times and you never missed a beat. Your resilience was enviable. You loved opening wrapped presents eating carrots, apples and yogurt. You guarded our home, sounding your alarm at the slightest noise. You kissed our noses, hogged our kingsize bed, snuggled close to daddy at nap time and never left my side through 8 surgical recoveries and two complete rounds of chemotherapy.
The way you snuggled under my chin and hugged me was one of the best feelings ever. You made us very happy. I only hope that we made you happy too. How blessed we were to have you with us for 15 years.
Goodbye to you, my sweet baby girl. Mommy will miss your sweet kisses and knowing you were there to greet me when I came home. Whenever I take a walk around our neighborhood I will think of you, remembering the feeling of your slight tugging on the leash. Feel the freedom from the pain of injuries and ailments and run and play with Casey and the other furry ones we have loved. We miss you already my baby girl.
Rest in peace. We love you always.
Momma and Daddy.