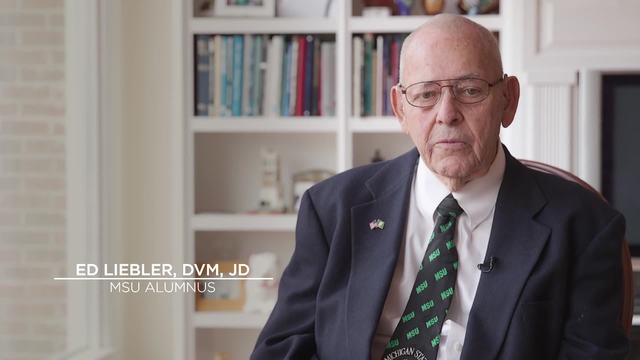 My good friend, Edward Charles Liebler left us on November 24. He was 79. In nearly two decades of friendship, he was my role model for a renaissance man.
Born in Brown City, on April 6, 1939, he absorbed the classic American work ethic early and thought he might dedicate his life to the plethora of animals that populated rural Michigan farms. He followed that path, earning both a BA and a DVM at Michigan State and opening a practice in Caro.
But that was just the tip of the iceberg. Ed found he had a brain for business and a sixth sense for how to leverage opportunities to build things. This lead him back to school, earning his JD  from Cooley Law School  in 1983. Ever the advocate, he focused his legal practice on helping other vets deal with the bureaucracies that seemed to stand in the way of their success.
It was his daily interaction with these small business people that fired his imagination about construction. Combining his practical experience with an ever expanding knowledge base, he platted three Subdivisions, and built more than one hundred homes and apartments. Beyond the residential space, Ed built and leased over thirty Post Offices, and many other commercial buildings. If you mail a letter in rural Michigan, it's likely you are in a building that Ed built.
By any definition, Ed Liebler was a success. But like many men of achievement, he wanted to model the behavior of giving back. His community service included a long association with the Caro Lions Club. He was a member of many boards, including mine at the MSU Alumni Association. He was interested in tackling complex challenges and joined us at a time when we were reinventing alumni relations. His wisdom was of great value and he lead the committee that created the bylaws that were our guideposts for over a decade.
We shared many interests. We were both private pilots. We liked woodworking. And we often compared notes about our common world travels. But our friendship truly deepened when we discovered that we were both amateur radio enthusiasts. As W8NRE, he constructed a station that was the envy of everyone in our group. He was fascinated with radio restoration and was continually redesigning the electronics inside while retaining the classical control panels he had grown up with.
This was the essence of the man. He understood that beneath a person's exterior, there was always great potential to reach higher and be better people than we were before. He modeled that behavior with his time and talent and also with his treasure, endowing a chair at his alma mater with a donation of over $3 million dollars.
What I loved most about Ed was that wealth and success didn't change him. Throughout his life, he was inquisitive, welcoming and impatient to move ideas forward. The last time we talked, he gave me a long list of ideas about how to rejuvenate the university's amateur radio club. We discussed the latest construction project he was working on in the well stocked shop he built behind his house. And he outlined his thoughts on how the university could move forward in the wake of their current challenges.
His legacy naturally includes his children, Juli and Jae, and grandchildren Julian and Alex. But it was through the generations of people he influenced, whether it was helping them buy their first home, move their business forward, or simply learning about how to live a life of authenticity from a master, that has given Ed Liebler well deserved immortality.
His death is a highly personal blow to those of us who admired him. But even as he rounded his last lap, he approached the unknown without fear, wringing the most out of every extra day he was given. Only last week, he was sitting among his amateur radio buddies at the Flap Jack Shack, planning his next trip to the Dayton Hamvention and engaging in spirited conversation with friends who now share our grief, yet are grateful for his extraordinary life.
Long ago, Ed asked if I would be a eulogist at his funeral. Like everything else, he had that planned out in detail. When we decided to move to Florida to be closer to family, he was among the first to wish me well. I'll be with his family in spirit at his memorial service on Thursday, thankful that he is released from a body that can no longer contain his spirit and forever grateful for the better person I am for having shared his orbit.