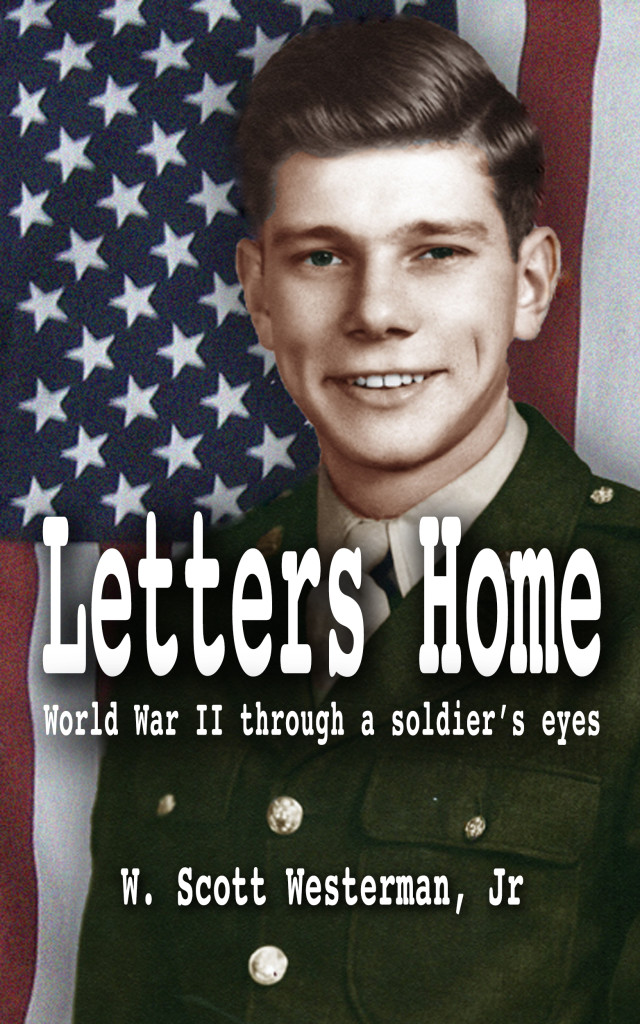 W. Scott Westerman, Jr. was just 16 years old when Pearl Harbor signaled America's engry into the Second World War. When the army offered young men a chance to enlist and get a year of college under their belts, my father graduated a semester early from Gallia Academy High School in Gallipolis, Ohio and entered Ohio Wesleyan University. Along the way, he was smitten by Marcy Percy, the woman who would become his wife and my mother. She was a year older and basic training was looming so the only promises that were made were to communicate by mail while dad served his country.
It was a time when written word, an envelope and a 2 cent stamp were the way we got to know one another. A five minute long distance telephone call cost $1.15. ($15.78 in today's dollars). Our Internet was the U.S. Postal Service and the preferred email application was a pen and paper.
When dad returned from the war, he discovered that his parents had saved the many letters he wrote. In 1985 he painstakingly typed each one into the word processor on his Apple MacIntosh SE, printing a few copies for family members on his dot-matrix printer.
Thirty years later he asked me if I could take his last remaining printed copy to the office supply store to make a few more. It was then that I remembered that his old Mac and a box of diskettes had migrated from our family home in Ann Arbor to my East Lansing basement.
And I got an idea.
One of the many benefits of working at Michigan State University is the plethora of smart people who like to solve problems like these. I found that the MSU Library's Ryan Edge knew how to translate old Mac diskettes into documents I could manipulate. He quickly emailed me the manuscript, which I plugged into my own authoring application to fix the minor blemishes among  his practically perfect prose.
I've self-published four books over the years and have watched the process become simpler and nearly free. Amazon Create Space and Kindle Direct Publishing can do the heavy lifting if you are willing to provide the proper artwork and formatting. That I did and in less than 48 hours, "Letters Home" was in the process of becoming a paperback book and a digital download.
I definitely have a family bias, but even peeling that away, this is a great read. Dad was prolific in his writing and detailed in his descriptions. You get a real feel for his personality, the people who were important in his life and his attitude toward the immense task that faced the Greatest Generation.
I couldn't put it down.
We follow him through basic training, wrestle with his decisions on whether or not to stay in his rifle squad, become a paratrooper or learn the ins and outs of the water-cooled machine gun, and we follow him across Europe, ultimately to Berchtesgaden, the home of the famed Nazi Eagle's Nest.
Letters Home is a fascinating look at a crucial period of world history, seen through the eyes of an Ohio preacher's son. A young man who went on to navigate the cataclysmic cultural challenges of the late 60s as superintendent of the Ann Arbor Public Schools and later serve as Dean of the renown College of Education at Eastern Michigan University, in his time the premier producer of teachers in the nation.
But that's another story..
Letters Home – World War II Through a Soldier's Eyes is available in Paperback and digitally for the Amazon Kindle.
Amazon Praise for Letters Home:
A fascinating look into the mindset of a WWII volunteer soldier. The relentless positivity of WSWJ as he is shepherded around the US for training and then shipped overseas into combat makes for a surprisingly uplifting read. The certitude with which he enters the war is refreshing and enlightening in the post-Vietnam era. This book is sure to be a source of fascination for historians and casual readers alike. 
An interesting and insightful look at WWII from one of the greatest generation. Interesting, inspiring and patriotic. The story follows the journey from civilian life to that of a soldier and provides an impressive look at a young man well on his way to success on so many fronts.
A wonderfully told story through the letters of a soldier, his experience during the war and his longing to come home to the family he loved.