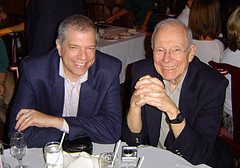 During World War II, he spent his final months in the service in the Philippines… and went back years later to build Habitat for Humanity homes there. Earlier this year he was inspired by Tracy Kidder's book Mountains Beyond Mountains: The Quest of Dr. Paul Farmer, a Man Who Would Cure the World, and decided, at age 82, to go to Haiti to help with a medical mission there.
You don't tell a guy with eight decades of life experience he can't do something… so off Dad went, leaving last Saturday at 5AM for the flight to Port o Prince. It didn't matter that a tropical storm creased the island during their visit. It didn't matter that the State Department website was warning that people over there kidnap Americans. "that won't happen to us," he said.. "We're there to save lives."
Here's the email we got from the head of the trip earlier this week:
We arrived safely on Saturday evening to overcast skies and rain. The rain has continued pretty much non-stop, making the temperatures cooler than normal, but the humidity somewhat higher. We've heard that there is a hurricane somewhere in the Caribbean, but we have had little wind, mostly rain, including more than 12 consecutive hours yesterday. The hospital has been flooded in places, and few workers came in today, as a result – the Haitian equivalent of a snow day, I suppose. The streets of Leogane are flooded as well, and we have heard stories of mud slides in the mountains, putting the trip to Jakmel tomorrow in some jeopardy.

Even with all the rain, the group is healthy and in good spirits. We have had many good experiences. Scott Westerman and I were in the delivery room today for the birth of Michele, a 2.9 kilo Haitian girl whom we helped to name (more on that another time). Other experiences are too numerous to mention. I have learned how to do blood pressure screenings, a skill that came in handy when we saw 129 people on our first rural clinic, an exhausting but exhilarating experience.

I also preached on Sunday at a small Episcopal church near Leogane. Per Deravil loaned me a set of vestments, and he translated for me. My humor seems to get lost in the translation, but otherwise I think it went well. Certainly it will be an experience I won't soon forget. I have many new ideas for our own church as a result of the experience.

Dick Stuber has been working long hours on generators – and today on water pumps. Tomorrow he goes shopping for some much needed equipment.

The people here at the hospital and guest house are lovely and gracious. They are taking very good care of us. We don't expect to lose weight this week – at least not due to the cooking. What wonderful foods!

Communicating with the outside world is very, very difficult – and a surprise to first-timers like yours truly. Two women working in the children's nutrition program are allowing me to use their laptop tonight, while they eat popcorn, drink wine, and watch a DVD. (I have not been invited to join in.)

Love to all. We look forward to seeing you soon. Please don't worry about any of us.

Doug

—
Douglas J. Brouwer
Pastor
First Presbyterian Church
1432 Washtenaw Avenue
The media seems to thrive on telling us about people who do destructive things.
How wonderful it is to know that there are angels who quietly walk the earth with us and unselfishly work their magic without the desire for publicity of payback.
It's especially wonderful when you have had the opportunity to live life knowing that one of them is your father.
I want to grow up to be just like him.